#2372
Graduate Student Showcase: Gakushuin University
Pre-recorded Video
Sat, Nov 13, 14:05-15:25 Asia/Tokyo
This is the graduate student showcase for Gakushuin University.
I am a graduate student of Galushuin University. I am interested in demotivation in two types of English classes.

I'm a 2nd year graduate university student. My research interests include language test and language policy.

Louise Ohashi is hosting the GGS session for Gakushuin University. She is a Professor at Meiji University who also teaches undergraduate and graduate courses at Gakushuin University. Her research background is in CALL/MALL, learner autonomy and second language education.

Yushi Kashimura is a second-year master's student at Gakushuin University. His research interests are Extensive Reading and Learner Autonomy.

Gakushuin University. His research is teachers' beliefs and retelling.
You can read summaries about the sessions below and download the PDF above. We will share four pre-recorded videos in this forum. Participants can comment/ask presenters questions via chat during each presentation and there will be Q&A time (presenters will answer orally, audience members can participate with audio/chat) after each presentation. If time permits after the four sessions, we will engage the audience in a discussion about our research areas. We hope you enjoy our session!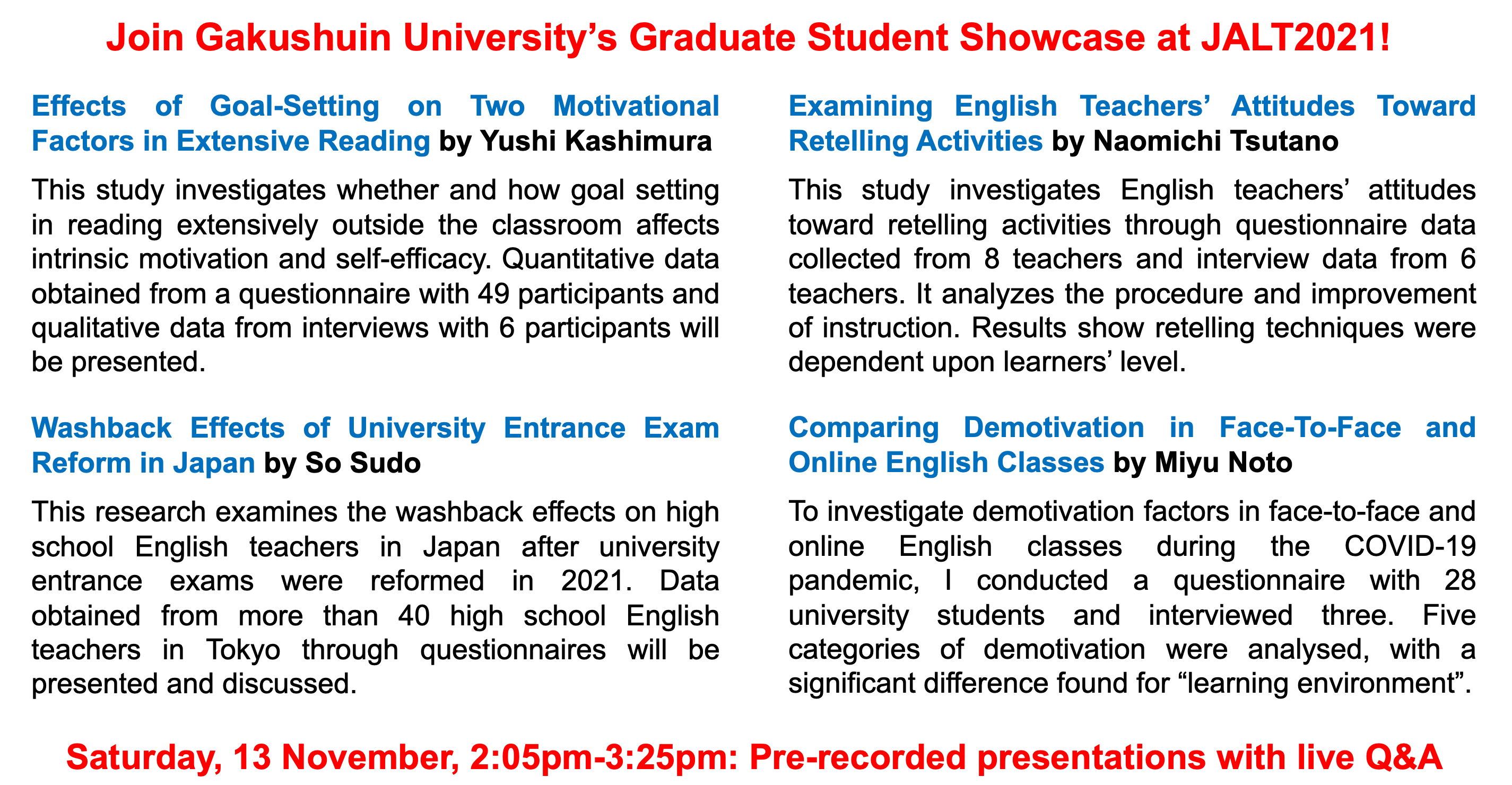 Miyu Noto: Comparing Demotivation in Online and Face-to-Face English Classes
So Sudo: Washback effects of entrance exam reform on English education in Japan
Naomichi Tsutano: Examining English teachers' attitudes toward retelling activities in secondary school
Yushi Kashimura: Effects of Goal-Setting on Two Motivational Factors in Extensive Reading